Every shop has that build that rings a particular bell. Not every shop has one that's done it on multiple continents.
Our 1963 C2 Corvette Convertible Restomod was something a little different for the Corvette Community. Generally, the industry sticks to what it knows. NCRS style restorations that push the boundaries only where it feels it will make the least amount of ripples in the pond. Sure, the big label custom shops are known for their SEMA style over-the-top builds meant simply to garner media attention, but few real deal blue blood Corvette shops step away from the known trends.
Those shops also don't get offers to show their cars in Dubai Auto Salons.
Our 1963 started life with very serious health issues. Smoked bird cage, frame rotted through, and an anemic non-original engine that barely turned over, let alone ran. It was the car that we felt needed saved, not preserved. After being stripped nut and bolt, the frame was replaced with a Coffman Corvette Performance C2 Chassis. Updated body panels from Dynamic Corvette and a full drivetrain from GM Performance. Anyone who has build a truly one-off custom known the deal… you just keep throwing money and hours at a build like this until the vision in your head begins to strategically develop in the real world.
The key to this build was real world driveability. This wasn't meant to be a trailer queen driven from show to show in an enclosed box. The vision was always the same: Go for a drive.
With an upgraded LS3 power plant backed to a Tremec TKO500 5 speed manual, the build is genuinely turn key. Get in, turn the key, and go for a drive. With all that power on tap, it's kept grounded and stopping through a set of Budnik wheels and C6 Z06 Brake package. It's not just "modern"… it's cutting edge.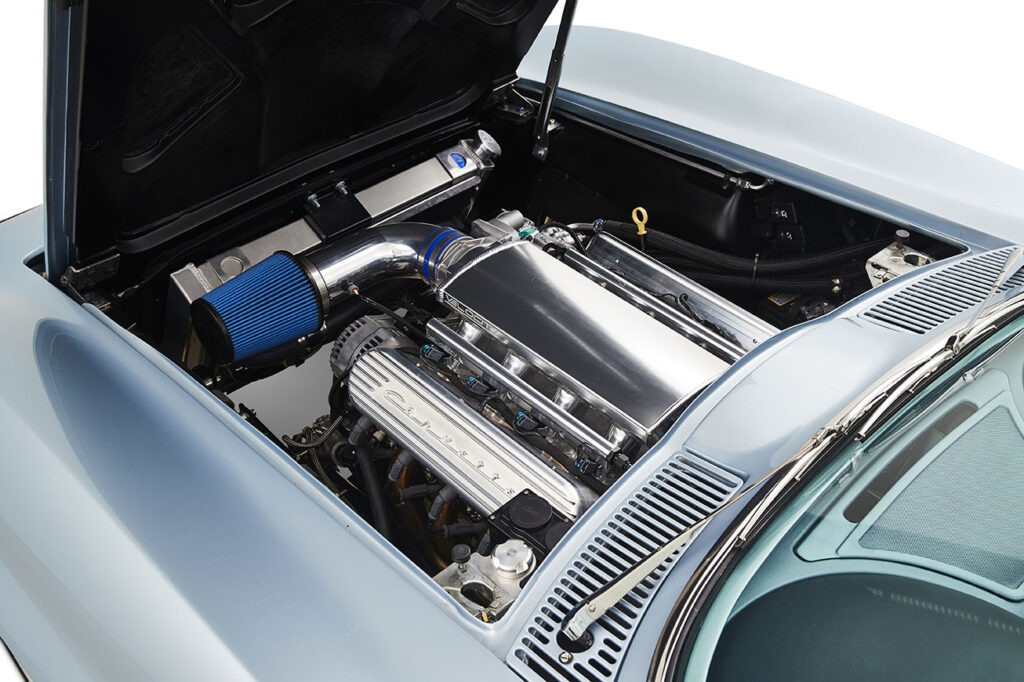 The visuals on this 1963 Corvette were kept "classy, but modernized". We blasted and matte finished the rear bumper package, and shaved the front bumper assembly. We draped the newly rebuilt body in an upscale version of Marina Blue, and carried the original blue on blue color palette to the interior with a traditional appearance, but highly upscaled materials. Deep Navy leather over original seat frames but with seriously bolstered padding. We wanted it to still feel like a vintage car, but with none of the vintage care woes. This included a complete Vintage Air install as well as an electronics package from Dakota Digital.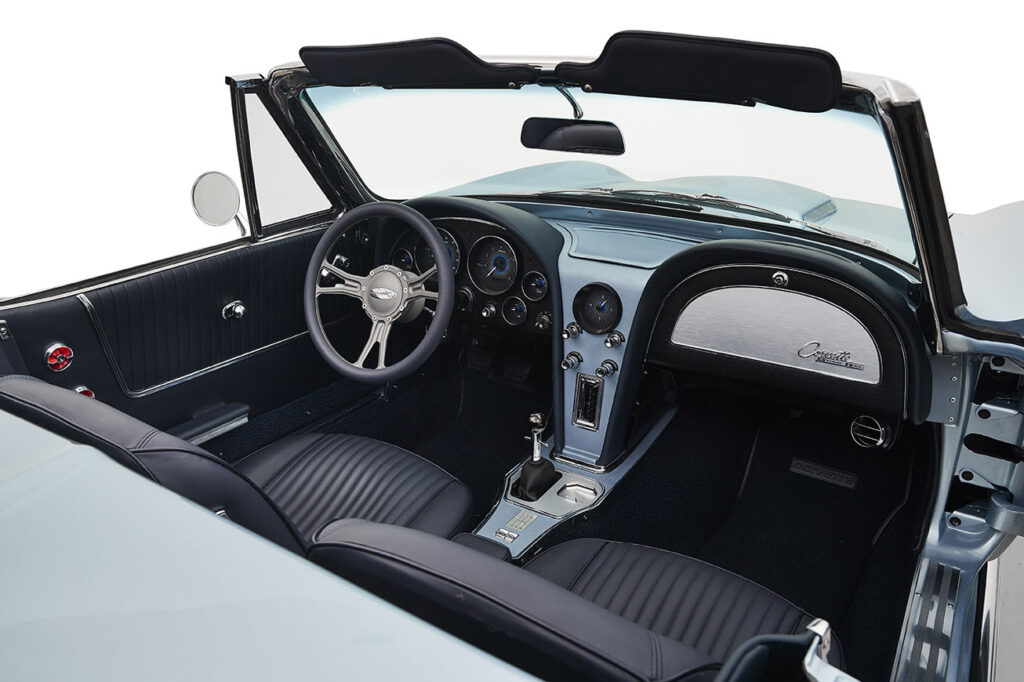 Upon completion the car became a world traveler. With visibility and appearances on both East and West Coasts, the car was even requested to be packaged up and sent to the Auto Salon in Dubai. Upon its return, it found a new home with a private owner that loved it even more than we did. Check out the full build sheet here.